"It's Necessary to Remember": Andy Guzmán '22 on the Transformative Power of the Atrocity Studies Minor
"I believe there is a need for more atrocity and genocide history to be taught in schools. I maybe got a few days on the Holocaust in high school, and that was it," says Andy Guzmán '22, who—in addition to his International Relations and Policy Studies major—will graduate with a School of Education minor in Atrocity Studies and the Practices of Social Justice.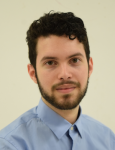 "This history that is missing from schools does not allow for people to understand the severity of atrocities," continues Guzmán. "It is much easier to avoid subject matter that makes people feel uncomfortable, but that prevents the world from really knowing how horrific atrocities such as the Holocaust and slavery were. There are many important conversations we are not having. We need more conversations about slavery and about how its legacy continues to affect our institutions, such as education, medical care, and public safety."
Guzmán—who was born in the Dominican Republic and emigrated to New York City's Washington Heights neighborhood as a child—says he became deeply interested in international relations and human rights while still in high school. That's where he took classes in global studies and world history, augmenting that knowledge with a talent for language acquisition. He taught himself to speak Italian at age 16.
"I sharpened my Italian skills during Syracuse University's Discovery Florence program as a translator for Libera, an NGO," explains Guzmán. "I'm interested in becoming a polyglot. Spanish is my mother tongue, and I hope to also gain full proficiency in French and Arabic someday. My international relations regional focus is on the Middle East and North Africa."
Past and Future
Guzmán says that as a student in the Maxwell School of Citizenship and Public Affairs, he learned about the Atrocity Studies minor through word of mouth. "I was looking to add another major or minor, so I began researching other programs in my sophomore year. That's when I discovered I had already taken some classes toward the Atrocity Studies minor because I was interested in them."
Directed by Julia M. White, an associate professor in the School of Education's Department of Teaching and Leadership, Atrocity Studies and the Practices of Social Justice is an interdisciplinary program that examines violations of humanitarian law and other human rights issues in an effort to "confront the past and transform the future."
Cross-campus courses encompass the history of atrocities ("Nazi Germany and the Holocaust," for example); challenging dehumanization ("Race, Gender and Sexuality in the African Diaspora"); and human rights and education ("International Education for Transformation").
Students have the opportunity to study abroad in Central Europe, France, or Chile—they may apply for the Himan Brown Fellowship to support study abroad experiences—and they must complete either an internship or capstone project.
"Both of these options are important," observes Professor White. For instance, capstone projects allow students to delve deeply into scholarly interests related to human rights and social justice. "I have had students research gender and reproductive rights in Central Europe and cases related to education in the European Court of Human Rights."
Internships, on the other hand, "allow students to engage deeply with their areas of professional interest through active participation while navigating organizational structures and learning from collaborations."
Chipping Away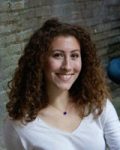 Along with colleagues Holly Westbrook '22, an International Relations major, and Kevin Treadway '22, a History, Political Science, and Classics major, Guzmán chose to intern with the International Association of Genocide Scholars (IAGS), for which Professor White serves as Treasurer. Atrocity Studies students automatically become IAGS members thanks to SU's institutional membership.
"Our internship addresses the IAGS Image Bank, which currently is not all that user friendly," says Guzmán. "We want to make it easier to use and accessible, replicating what IAGS has done with its video library."
"We're chipping away at it," Guzmán adds.
Helping to serve researchers associated with IAGS, the Image Bank has so far collected more than 2,000 high-quality, Creative Commons photos, drawings, prints, and other visual media. Guzmán and his colleagues are organizing the library, keywording images to make the database more searchable, and adding alt text to make them accessible to the vision impaired.
"The Image Bank project is a very exciting one," notes Professor White. "Organizing the images by keywords and making them accessible are both incredibly important contributions to the field."
The archived images show the places, people, and memorials associated with violations of humanitarian law and human rights struggles perpetrated across the world. Examples include Argentina's Dirty War, the Troubles of Northern Ireland, slavery and civil rights in the United States, and genocides in Armenia, Cambodia, and Rwanda. Another task for the SU team is to add warning labels to images that are particularly graphic.
Future Plans
On this last point, Guzmán says that students of genocide and atrocity can be exposed to potentially disturbing stories and sights. "For me, it was learning about Pinochet's regime in the class I took online with the Syracuse center abroad in Santiago, Chile. While some content may be disturbing, I believe it is necessary to remember."
Westbrook echoes Guzmán's thoughts about the importance of speaking truth about atrocities "so we can understand how best to handle them and prevent them."
"The IAGS internship project hopes to make this knowledge more accessible through its image library," Westbrook says. "By teaching the public about past atrocities, we can reduce bias and discriminatory attitudes, possibly inspire people to enter the field of atrocity prevention, and influence policies that directly influence the frequency and severity of atrocities."
One of the stated goals of the Atrocity Studies minor is to "transform the future," and what Guzmán intends to do with his degrees and his skill set will help to make that goal a reality.
In some ways, Guzmán's future plans—to open a language school for children, much like the bilingual school he attended in Washington Heights—complements his close study of the ways humankind has torn itself apart and how ethnic and other groups have dehumanized those they perceive as "other."
"Now I'm in my senior year, I'm exploring options with my career," says Guzmán. "Language learning is one area of interest. I've always seen language acquisition as a way to bring people together."
Original feature published on SOE's website on Wednesday, March 2, 2022, and can be found here.